The new era of architecture 45 nM has arrived to apple product. This new proccessor will be implemented in the new Macbook Pro, Mac Pro, and X serve as the greatest Mac machine.


Apple today revised the Mac Pro and Xserve with a new architecture and the recently released Penryn Processors. The Mac Pro combines two 45-nm Quad-Core Xeon processors running up to 3.2GHz and up to 4TB of internal storage. The standard 8-core configuration starts at $2799.

"The new Mac Pro is the fastest Mac we've ever made," said Philip Schiller, Apple's senior vice president of Worldwide Product Marketing. "With 3.2 GHz 8-core Xeon processing, a 1600 MHz front side bus and 800 MHz memory, the new Mac Pro uses the fastest Intel Xeon architecture on the market."
The new Mac Pro features the latest Quad-Core Intel Xeon 5400 series processors based on 45nm Intel Core (Penryn) microarchitecture running up to 3.2 GHz, each with 12MB of L2 cache per processor. According to Apple, the 1600 MHz front side bus and 800 MHz DDR2 ECC FB-DIMM memory achives a 61 percent increase in memory throughput.
The new Mac Pro comes standard with the ATI Radeon HD 2600 XT graphics card with 256MB of video memory.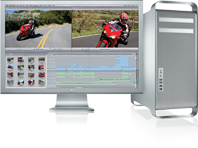 The standard 8-core Mac Pro, with a suggested retail price of $2,799 (US), includes:
- two 2.8 GHz Quad-Core Intel Xeon processors with dual-independent 1600 MHz front side buses;
- 2GB of 800 MHz DDR2 ECC fully-buffered DIMM memory, expandable up to 32GB;
- ATI Radeon HD 2600 XT with 256MB of GDDR3 memory;
- 320GB Serial ATA 3Gb/s hard drive running at 7200 rpm;
- 16x SuperDrive(TM) with double-layer support (DVD+/-R DL/DVD+/-RW/CD-RW);
- two PCI Express 2.0 slots and two PCI Express slots;
- Bluetooth 2.0+EDR; and
- ships with Apple Keyboard and Mighty Mouse.
Apple also revised the Xserve today with the same architecture. Xserve standard configuration, with a suggested retail price of $2,999 (US), includes:
- a single 64-bit 2.8 GHz Quad-Core Xeon processor with 12MB of L2 cache and a 1600 Mhz front side bus;
- 2GB of 800 MHz DDR2 ECC FB-DIMM RAM, expandable up to 32GB;
- a single 80GB SATA Apple Drive Module;
- dual Gigabit Ethernet on-board;
- internal graphics;
- two FireWire(R) 800 and three USB 2.0 ports; and
- an unlimited client license for Mac OS X Server version 10.5 Leopard.
What about MacbookPro? Now, Macbook pro has Santa Rosa in its body since June 5th 2007
But according to
appleinsider
, the chips scheduled to launch in January will have the model names X9000 for the 2.8GHz CPU, T9500 for the 2.6GHz, T9300 for the 2.5GHz, T8300 for the 2.4GHz and T8100 for the 2.1GHz. They'll be priced at $851, $530, $316, $241 and $209 in 1000-unit tray quantities, respectively. All five of the chips will continue to make use of an 800MHz front-side bus like those in the current iteration of Apple's MacBook Pro line.
Of the five chips, the X9000 2.8GHz model is considered a mobile Core 2 Extreme processor, and it's unclear if Apple has any plans for that variant in a notebook system. In its brief history of using Intel processors, the Cupertino-based company has shied away from using the pricier, more power-hungry Extremes in its streamlined portable systems.
On the other hand, the upcoming T9500 2.6GHz and T9300 2.5GHz Penryn chips are slated to arrive at exactly the same price points ($530 and $316) as the T7700 2.4GHz and T7500 2.2GHz Merom-based processors currently situated in the Mac maker's Santa Rosa-based MacBook Pro line, almost assuring their adoption in next year's models. The 2.6GHz and 2.5GHz chips will also sport 6MB of L2 Cache, differentiating them the 2.4GHz and 2.1GHz models, which contain only 3MB of L2 Cache.
Expectations for the next refresh to Apple's consumer-oriented 13-inch MacBook notebooks are less certain, however. Since the MacBook did not make the jump to Intel's Santa Rosa platform earlier this year, Apple effectively holds two options for progressing the portable line -- it could introduce a more cost-effective 65nm Merom-based line in the coming months or alternatively make the leap to the fresher 45nm Penryn-based chips early next year.